Yes I teach people that have never danced! I teach what you want to learn.
Flips & Acrobatics
Elite Strength and Flexibility
Group Classes
Friday 6pm (Ages 5-9)
Friday 7pm (Ages 10+)
$97 Monthly Tuition
La Vida Dance
11961 124th Ave NE, Totem Square Plaza | Kirkland, WA 98034 (425-643-5433)
Enroll at https://www.lavidastudio.com/youth/hip-hop/
Wednesday 6:45 PM ( Ages 5-9)
Wednesday 7:30 PM (Ages 10+)
$86 Monthly Tuition

Private Lessons
Location
House Calls in Seattle/Kirkland/Bellevue/Everett Area or studio in Snohomish
Cost
Free lesson if you can do 60 pushups in under 2 minutes. Pushups are arms fully locked out on top and 90 degree elbow bend on bottom. Send video proof or perform in person before lesson.
$80 per lesson ($40 for active duty military, police, firefighters and nurses). Extra fee for house calls based on distance. Lesson lasts 1 hour or more if you have the stamina
$500 a month, unlimited lessons
$2,500 to learn windmill in 6 months. If you can do 5 windmills in a row you get your money back.
$3,500 to learn headspins in 6 months. If you can do 5 rotations in a row you get your money back.
$10,000 to learn flare in one year. If you can do 4 flares in a row you get your money back.
Schedule
Available afternoons/evenings during the week and most times during the weekends. Lessons last an hour or more based on your stamina.
Call 310-490-3831 to schedule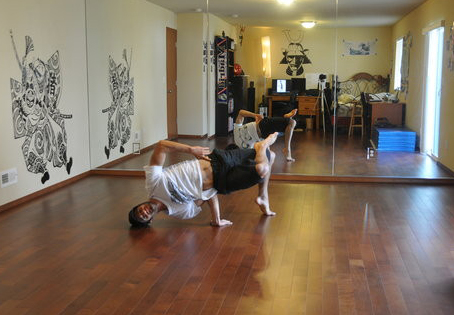 Learn in my private studio in Snohomish
Safe, Expert Instruction and Fun!
Safety First! If you are broken you can't dance.
Expert Instruction – Don't reinvent the wheel, learn from my mistakes.
Fun – If you don't like pushing yourself you are weird.
My Philosophy
I train your body so you can dance the way you are dancing already in your mind. But you can't waste my time with excuses for why you won't work hard. Only a positive CAN DO attitude and discipline will get results! I will give you the tools to create your own style and boogie down. I will make sure you have strength in the right places with the flexibility to match.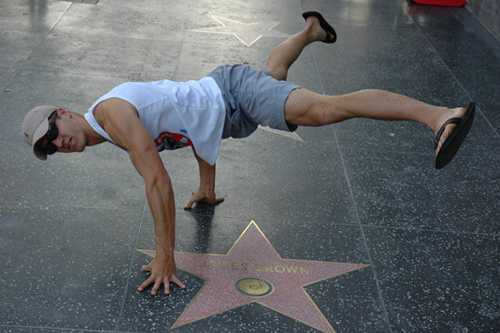 (Keeping My Feet Clean From the Dirty Hollywood Streets)